Bearded Dragon Diet – Adult

85g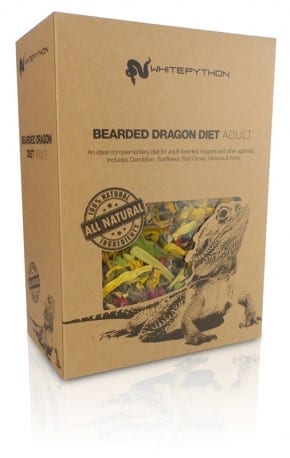 The WhitePython™ Bearded Dragon diet is an ideal complementary food source to enhance the nutritional intake of your Bearded Dragon. The Adult Bearded Dragon diet consists of an all natural mixture of dried flowers and plants that can be very difficult or costly to come across fresh. This mixture is recommended as a complementary diet only and should be fed in conjunction with live insects and other fresh fruit and vegetables.
Instructions: Feed daily. If your Bearded Dragon refuses to eat, try spraying the mixture with water to moisten. If your Dragon has not been fed on much vegetation it may not take to this food immediately; you may need to stop feeding live insects for 2-3 days to ensure they are not tempted away from this healthy new food.
Suitable for Bearded Dragons aged 8 months plus.
Composition: Dandelion Leaves, Hibiscus, Sunflower, Red Clover and Rose Petals.
Analysis: Moisture 11.4%, Protein 11.1%, Fat 2.5%, Ash 10.8%, Crude Fibre 17.0%
Size: 85g
RRP: £6.99
(MPN: WPY003 / Barcode: 5060309450017)
Juvenile Bearded Dragon Diet is also available, please click here for details.
You may also be interested to see our Bearded Dragon Care Sheet, please click here to view.
Check out our video of adult beardies feeding on the Adult Bearded Dragon Diet: