Tortoise Diet – Adult

95g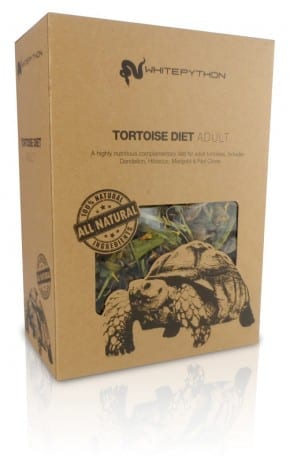 An all natural Tortoise Diet mixture of dried flowers and plants specifically catered to your Tortoise's nutritional requirements. This Adult Tortoise Diet is recommended as a complementary diet only and should be fed in conjunction with other fresh fruit and vegetables.
Instructions: Feed Tortoise Diet daily. If your Tortoise refuses to eat, try spraying the mixture with water to moisten and mixing with its existing food source.
Suitable for Tortoises aged 5 years plus.
Composition: Hibiscus, Dandelion Leaves, Marigold & Red Clover
Analysis: Moisture 13.2%, Protein 15.6%, Fat 2.6%, Ash 13.2%, Crude Fibre 24.9%
Size: 95g
RRP: £6.99
(MPN: WPY005 / Barcode: 5060309450031)
Juvenile Tortoise Diet is also available, please click here to view.