Tortoise Diet – Juvenile

85g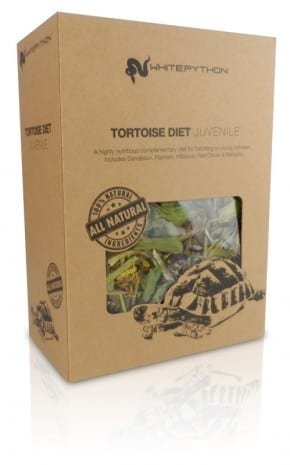 An all natural mixture of dried flowers and plants specifically catered to your Tortoise's nutritional requirements. This Tortoise Diet is recommended as a complementary diet only and should be fed in conjunction with other fresh fruit and vegetables.
Instructions: Feed Juvenile Tortoise Diet daily. If your Tortoise refuses to eat, try spraying the mixture with water to moisten and mixing with its existing food source.
Suitable for Tortoises up to 5 years old.
Composition: Dandelion Leaves, Ribwort, Hibiscus, Red Clover & Marigold.
Analysis: Moisture 10.2%, Protein 12.8%, Fat 1.2%, Ash 11.3%, Crude Fibre 19.9%
Size: 85g
RRP: £6.99
(MPN: WPY006 / Barcode: 5060309450024)
Adult Tortoise Diet also available, please click here to view.