Ceramic Lamp Holder

For use with WhitePython™ Ultra Slim Heat Lamps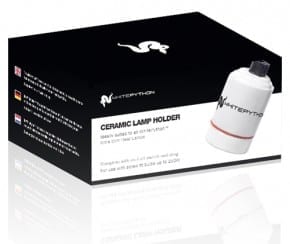 Designed for use with the WhitePython™ Ultra Slim Heat Lamps, the Ceramic Lamp Holder is capable of working with all E27 Screw fitting bulbs up to 300Watts.
The WhitePython Ceramic Lamp Holders feature high temperature rated Silicone cable for extra safety and durability. All holders also feature an on/off switch for easy use.
We highly recommend you use the WhitePython Heat Guard and Reflector in conjunction with your Ceramic holder and heaters.
RRP: £18.99
(MPN: WPY013 / Barcode: 5060309450116)
Ceramic Heat Guard & Reflector Set-up Video: